Innovation in Home Oxygen Therapy
The new Inogen At Home is one of the lightest,quietest, and most energy-efficient 5 litres per minute continuous flow oxygen concentrator on the market today.
At approximately 8kg, it is half the weight of some other oxygen concentrators in use today. With a low noise level of 40 decibels at flow setting 2 and very low power consumption levels, the Inogen t Home is an efficient choice for your next home oxygen concentrator.
Features include
Lowest Energy Consumption – Save almost $300 in electricity per year.
Extremely Quiet
One of the Lightest Floor Concentrators
No more tanks to refill
Continuous flow system. Suitable for people with a prescription of up to 5LPM.
The professionals choice in  Oxygen Therapy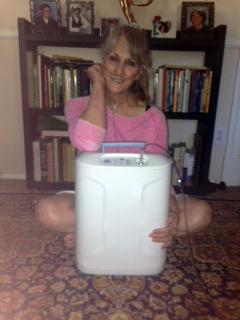 "The Inogen At Home oxygen concentrator has given me back my pre-oxygen freedom of movement.  It's small size and quiet operation allow me to place it anywhere in my home; and, my husband and I are able once again to take the spur-of-the-moment trips we so enjoy. No more trying to coordinate rental concentrator deliveries along our way, we just pop the Inogen At Home in the trunk of our car and plug it in wherever we decide to stop. It's  easy and convenient! I love it!"
– Claudia H.
Seeing is Believing: Request a FREE Product Demo

Inogen At Home Specifications
Lowest Energy Consumption
Power Sensing: AC Power Supply 100-240V, 275W MAX, 50-60Hz (auto sensing allow worldwide use)
Delivers equivalent of 1 to 5 litres of oxygen per minute via continuous flow
Noise Level: 40 Decibels at flow setting 2
Oxygen flow: Intelligent delivery technology. Four flow settings from 1-5
Warranty: 3 year limited warranty
Operation: Simple control functions
Use: Designed for stationary use
Inogen At Home Pricing
We guarantee the lowest Inogen At Home price in Australia.
Buy from Australia's only accredited Inogen service centre
Inclusive 3 year parts and labour manufacturers warranty
Experience customer service like no other with our 24/7 Emergency Oxygen Support Line
Contact Oxygen Solutions to purchase e an Inogen at Home.
Contact us
for an obligation-free quote, further information or patient support.